純 JUN – "JUST RIGHT" For Any Workspace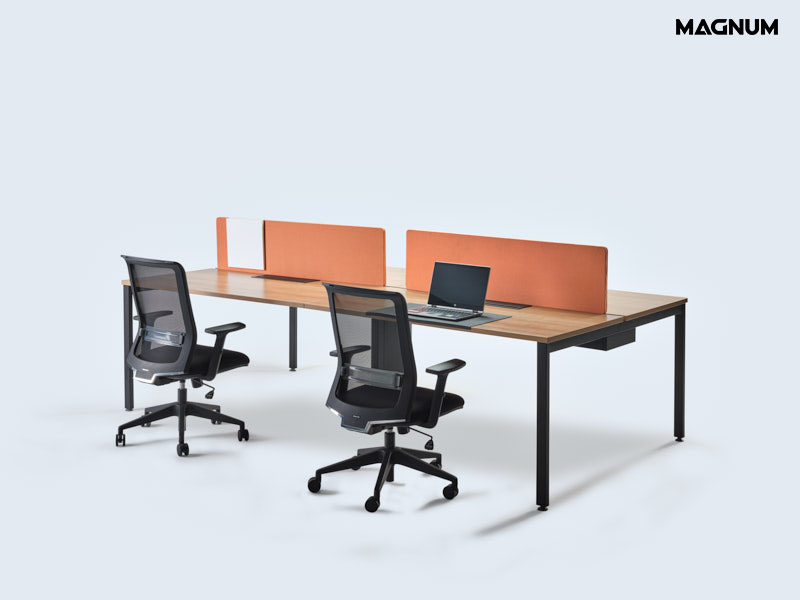 The Concept:
Designing a Workspace entails many issues coming along with it but the center piece of any well-designed office or home office is the Workstation or Desk. Not only the functions and the operations of an organization plays an important role in the deciding factors while selecting the Right workstation but also those people who are working there are able to work comfortably.
However, with the current Covid Pandemic, uncertain and unpredictable economic environment, there are a lot of fluctuations in the staffing levels, maintaining distance as per social distancing guidelines, people working from home, frequent re-configurations are required in the office set ups to meet the requirements.

Introducing the JUN modular office system – it gives flexibility to achieve a layout without much tools and attachments. Modules can be added, removed and set up very quickly. Giving you the flexibility required in such a dynamic and critical business environment.

Ergonomically User Friendly: JUN Workstations and Meeting Tables are designed to be ergonomically friendly with the growing necessity of wellness, so that the employees can be comfortable while working. It leads to high productivity as the design of workspace should be human centric. The carefully chosen standard table top and fabric panel colours provide a feeling of "warmth" to the user while portraying a professional and stylish outlook
Supports Technology: The basic need of any modern desk or workstation today is the need of power and data cabling to support the need of the use of latest technology. Connection points must now be readily accessible to the desktop/laptop/tables/mobile devices whilst the cabling is discreetly routed to each work-point. Accessibility to all cables must be easy and the JUN workstation system includes slim flip-up on the work tops that allow easy access to electrical points without bending down.
Affordability: One of the most appealing benefits of the JUN is that with the manufacturing being done in INDIA it is completely affordable, and within the reach of practically any business regardless of their budget for office furniture. New innovations and manufacturing techniques have delivered options and packages that are a far better option than importing similar furniture.
It is no longer the trend that one size fits all but workspaces are designed to achieve outstanding business needs with the ultimate goal to improve performance and productivity which further would enhance wellness and wellbeing. Hence going forward, it has become very important to work multifunctional for which dynamic workspaces will become a requisite. So hereby we introduce to you our latest space design namely 純 (JUN) which means genuine, pure and simple.

With the thought of a flexible workspace JUN has been designed by our Japanese Designer Mr. Murakami with 28 years of experience with KOKUYO Japan. The simple and clean structure of JUN gives you the freedom to create, stay active and extremely productive. Thus, the desk has been developed and designed for every day use. The main benefits can be listed as below:
Ergonomic
Multifunctional
Dynamic
Modular
Lightweight
JUN would give a comfortable and an attractive workspace for you to work whether at home or office. We strongly believe that anyone who would enjoy the environment they work in would reach their potential and do a better job rather than someone who doesn't like the space or isn't comfortable in their desk or chair.
Overall JUN fits the various workstyles, its simple structure makes it easy to assemble. It can be expanded as additional people can be seated at the connected unit. The same look and feel in the entire office can be achieved with Meeting Tables and Management desk.
It is "Just Right" for any working environment
For products and solutions contact us now: https://magnum-sadoshima.com/contact-us/
Email : crm@magnum-sadoshima.com
Mobile: 08506086909
Continue reading our Blog section: https://magnum-sadoshima.com/blog-list/
See our entire office furniture range: https://magnum-sadoshima.com/office-furniture/